Duncan's Donuts
Producer(s)
Writer(s)
Narrator
Air date

2016

Previous episode
Next episode
Duncan's Donusts is the eleventh short in the Thomas: The Trainz Adventures Shorts series.
After breaking down while pulling a train, Rusty comes to take Duncan home, but on the way there Rusty teases him about what was in his train.
Characters
Edit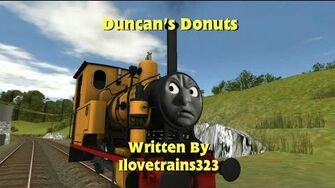 Ad blocker interference detected!
Wikia is a free-to-use site that makes money from advertising. We have a modified experience for viewers using ad blockers

Wikia is not accessible if you've made further modifications. Remove the custom ad blocker rule(s) and the page will load as expected.